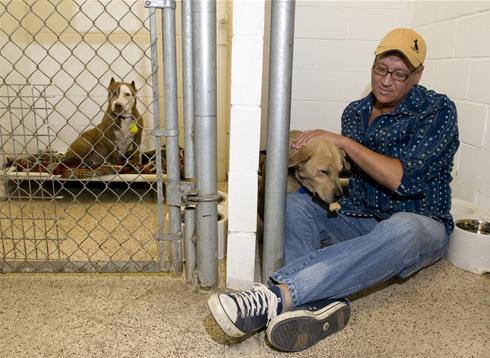 A pet is a lifelong commitment. Unfortunately, for some, there comes a time when they can no longer keep their pet. Should that day come for you, it is important to try to place your pet in a good home. It requires some effort, time and money (not much) ... but if you follow these steps, there is an excellent chance that your best friend will live the remainder of their life in good hands - and you will feel much better, with that knowledge. It may not be necessary to do everything below, but the more effort you put in, the better your chances of finding a good home.
There is a better way than leaving your faithful companion at a local shelter.


1. Have your pet up to date with vaccinations. Have a stool sample done to ensure they are parasite free.
2. Take a good picture(s) with a digital camera.
3. Write a Personality Profile describing your pet. Include name, breed, sex, if spayed/neutered, weight, markings/coloring.
How long have you had him/her? A reason - not too personal - why you can no longer keep them. Describe your pets personality. Include any endearing qualities (ie. loves to play frisbee, excellent with other pets, children, a lap dog.)
Be honest and include any issues they have (ie. not good with cats, small children, health.)
Include a contact phone number.
4. Visit
www.petfinder.com
Enter your zip code and search for a rescue group near you. Contact them and ask if they can post your pet on Petfinder. Email your photo(s) and Personality Profile. Ask that your phone number be used as the primary contact.
5. Contact the classified section of a local, widely circulated newspaper in your area. Run a small ad for your pet. On Long Island, NY you can contact Newsday classified at (631) 843-7653. A small ad will cost approx. $22, runs for 1 week and is VERY effective.
Adopt "Sweetie" a lab mix, male, 60lbs, 2yrs, good with kids, other pets. (631) 123-4567. -or-
Adopt "Sandy" a pedigree German Shepherd, female, 75lbs, 5yrs, no cats. (631) 123-4567.
For approx. $40 you can add a black & white picture in the Sunday edition.
And online ads are FREE!
http://www.newsday.com/classifieds
6. Using your photo(s) and Personality Profile, create a flyer. Post in supermarkets, animal hospitals, animal shelters, library, any public place that will allow.
7. Conduct a thorough interview with all inquiries. *** THIS IS EXTREMELY IMPORTANT!!! ***
Click here
Adoption Application
and ask your applicant for the required information.
All interested parties can:
- save it on their PC, edit it and email it to you as an attachment
- or bring it with them when they visit
- or you can ask questions and fill it out over the phone or when they visit
Tell them you require a home visit - before and after your pet is placed.
A caring person will understand and
will not object
and it will give you peace of mind.
8. Ideally, people come to see your pet and submit their application.
You then check references, choose the best candidate and visit their home with your pet.
9. The new owner should have an id tag before they pick up your pet. They can be purchased at Petco for about $7.
10. Make sure your pet is wearing an id tag with a phone number when you release him/her.
Have your own tag on him/her also and ask the new owner to keep it on in case theirs comes off. Newly placed pets are often confused, nervous and frequently escape.
11. Follow up with a phone call the same night or next day.
12. Follow up with a home visit within a week.
13. Keep in touch, to ensure that the new home is working out.
You do not want your pet to wind up in a shelter if it is not.